The power of gold
Gold occurs naturally in the brain as a trace element. As a result, your skin recognizes and absorbs this precious metal. Cleopatra already bathed her body in gold 2,000 years ago and regularly used a gold mask. In the United States of America, famous stars add liquid gold to their dietary supplements to extend their life and vitality. These supplements are registered and recognized.
Gold has a lifting and firming effect, slows down the breakdown of collagen and elastin and stimulates cell growth in the epidermis. Based on that knowledge, a luxury treatment method based on 24 karat gold has been developed, which received a major product innovation award at the world's largest beauty fair in March. "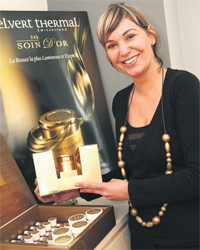 The treatment
Take your time for this treatment, which starts with a pearl powder peel. Pearls are pure nature, they grow in clean and fresh fresh water. They are ground into a fine powder and contain many amino acids.
The peeling regenerates, plumps the skin and also contains diamond powder, good for a light scrub, which removes the dead skin cells. It also contains grape seed extract, with anti-aging antioxidants. Then pure 24-karat gold is placed on the wrinkle areas to be treated and gently massaged into the skin. The gold provides tension. Then the whole skin is given a Japanese massage with the luxurious 24-hour gold cream, which also contains 24 karat gold extract and also jojoba oil and vitamins. Then follows a gold mask, which has to withdraw for a while. Finally, your skin is treated with a protective gold cream. Esther: "The treatment has a moisturizing effect, reduces harmful free radicals and gives the skin a radiant glow. It also fades blemishes. This treatment saves everything in quality. It is ideal for a bridesmaid, for example, when you go to an important party. , but also if you really want to pamper yourself. The products in this treatment are so exclusive that they make the treatment expensive. But 24 carat gold is also used. "
The luxurious 24K gold treatment consists of:
Flash peeling (light peeling with micro dermabrasion device)
Cleansing ritual with 24K cleansing & peeling with pearl powder
24K gold leafs are applied to the skin and massaged
Oxygen treatment with oxygen, the active ingredients are brought even
deeper into the skin, so that the fine wrinkles are filled in as it were.
Japanese facial massage of the face, neck, décolleté, ear and scalp
Luxury 24K gold mask, an absolute winner to end the treatment.
The skin is completely relaxed under this soothing mask and all the active ingredients applied do their job again twice and thickly,
Result:
100% hydration
100% cell regeneration
100% anti age
100% relaxation
100% luxury pampering moment
100% skin rejuvenation
Do you dare to give yourself the very best for once ..?
Gift tip for:
Valentine's Day
Birthday
Wedding day
Bridesmaid
Wedding
Just because you think someone is very special
Luxury 24K gold treatment with 99.9% gold
all in price €125,00